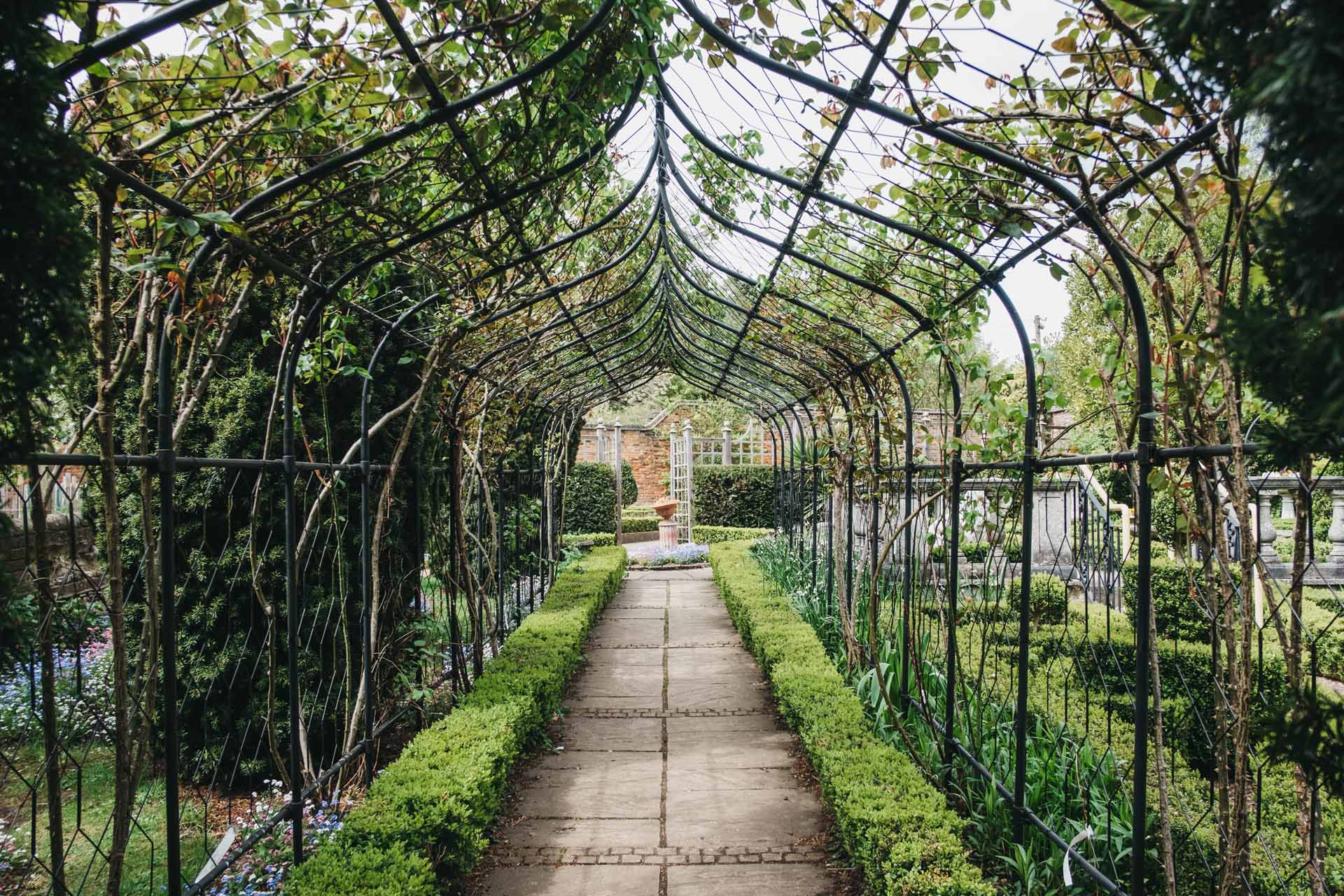 Outdoor & Robust
Garden Structures
Our garden structures include metal garden arches, garden privacy screens, arched pergolas, garden arbours, metal gazebos and border edging. Ideal for adding visual interest to any garden, whilst providing support to most growing plants. 
Garden Structures Ideas
A smart way to transform your garden is to add structure by dividing it into zones. A clever use of a garden structure can create a secluded seating area, even in the smallest garden, which doubles as a floral feature when planted with fragrant roses or honeysuckle to fill your garden with scent. A garden structure also provides a vertical surface for plants to flourish on – making best use of space in your garden.
Modern Metal Garden Structures
Our metal garden structures are designed with a timeless look, ideal for a cottage garden. Browse our elegance collection to find attractive and delicate wirework design features with a practical, robust solid steel construction. Our 'Forged' style, metal garden structures with modern black coating and slimline welded joints offer a neat design and simple installation.
Outdoor Garden Structures 
Our quality outdoor garden structures are built to last and our traditional range is guarantee for 10 years. Constructed from high quality galvanised steel, they are coated with a rust resistant polymer coating. All our structures can be left outside throughout the year regardless of the season. 
Garden Structures For Privacy
Garden privacy screens
can be used in the smallest areas to disguise an unsightly shed or fence but also divide the space, add vertical interest and the opportunity to add climbers to your planting scheme.
★★★★★

Excellent quality. The product arrived timely and looks really good in my flower garden.

Abby Loader

Kent, UK
★★★★★

Very well constructed and simple to install. We expect this product to give many years of sturdy service. We are so pleased with our purchase. Just goes to show, "buy right, buy once".

John Kramers

North Yorkshire, UK
★★★★★

Service was quick. I ordered during the 20% discount period and it arrived the following day. It arrived in two very flat packages.

Sally Sullivan

Cornwall, UK
★★★★★

We found it straightforward to construct thanks to the clever design and helpful instructions. It looks really stylish and ideal for growing our sweet peas.

Mary Hambleton

Staffordshire, UK
★★★★★

Super high quality wall arch creating a lovely walkway along my brick wall - looks amazing! This Wall arch turned a boring walk into a feature wall.

Laura McCracken

Greater London, UK
Depending on your aesthetic or the style of your home, you might want a specific design from your garden structure. We have various styles available ranging from Gothic, Traditional, Monet, Contemporary, Georgian, Edwardian, Byzantine or Victorian.
We offer a few different sizes for most of our arches, ranging from tube thickness to widths or heights. Browse your available options to find the right fit for you. Alternatively, you can call our friendly customer service team on 0117 934 1790 with your specific dimensions, and we will find your best option among our range.
All our garden structures are designed in the UK and made of high-quality galvanised steel, finished with our unique protective coating which makes them long-lasting and weather-resistant. All our traditional collection is backed with a 10-year guarantee.
We have several locations around the UK where you can see our products on display. To discover if there is a garden near you open for visit, browse our garden locations gallery. Call the venue to book your visit whenever it's convenient and explore the gardens venue in your spare time – a nice way to spend a couple of hours for free!
Established in 1970, Agriframes have been specialists in creating stylish, high quality garden structures for 50 years. Developed in the UK, our range of arches, pergolas, screens, obelisks and gazebos can sit comfortably within any garden setting.
If you have a large garden space, you could add charm with a long-arched pergola to make a walkway feel special. However, to decorate a front garden, you can mark an entrance leading to your front door with a garden arch. Much like when marking a pathway, an arch over a gate adds architectural style to your house. You can also choose a garden arbour to decorate a quiet corner and create a peaceful retreat to read and relax on a bench.
For heavy plant climbers such as wisteria, vine, honeysuckle, jasmine or certain type of climbing roses, we recommend you choose a garden structure in our traditional collection.  Opt for a design fitted with lattice infills in our elegance collection to help new climbers establish and to offer you anchor points to tie in growth as the plant established.
Depending on what you want to feature, you can easily add small garden structures such as obelisks, plant supports, trellis, plant frames, or fine arches from our elegance collection anywhere.
We want to offer our customers the best service possible, which is why we can organise for an on-site installation service - particularly useful for larger structures or cages.
Simply call us with your postcode and the product you require installing we will give you an installation quotation and a date. Our experienced team will arrive with all the kit and set up your frame in your garden!
To find out more about this specialist service, one of our dedicated customer service advisors will be happy to help. Just call our customer service line on 0117 934 1790. Lines are open Monday - Friday 9- 5.30pm
Most of our products are self-assembly unless stated otherwise. All our products have been designed to be as easy to assemble as possible. Simply follow our product instruction manual to do so. However, if you require further assistance, please call our aftercare team 0117 934 1790.
Our garden structures come in various sizes to fit most gardens. For example, our garden arches range from 2.1m to 3.5m at the highest for a Gothic Arch, while our garden obelisk heights are available from 1.3m to 1.7m. Some of our fruit cages are up to 3m high like our Roman fruit cage.
Our garden structures are constructed from high quality galvanised steel and come in various colours dependant on their style. Their build is rust resistant polymer coating. Made of tough tubular steel, galvanised both inside and out for strength and rust prevention, the UV stabilised polymer-coating and textured finish is both durable and attractive.
Inspirational Blogs You Might Like
View all