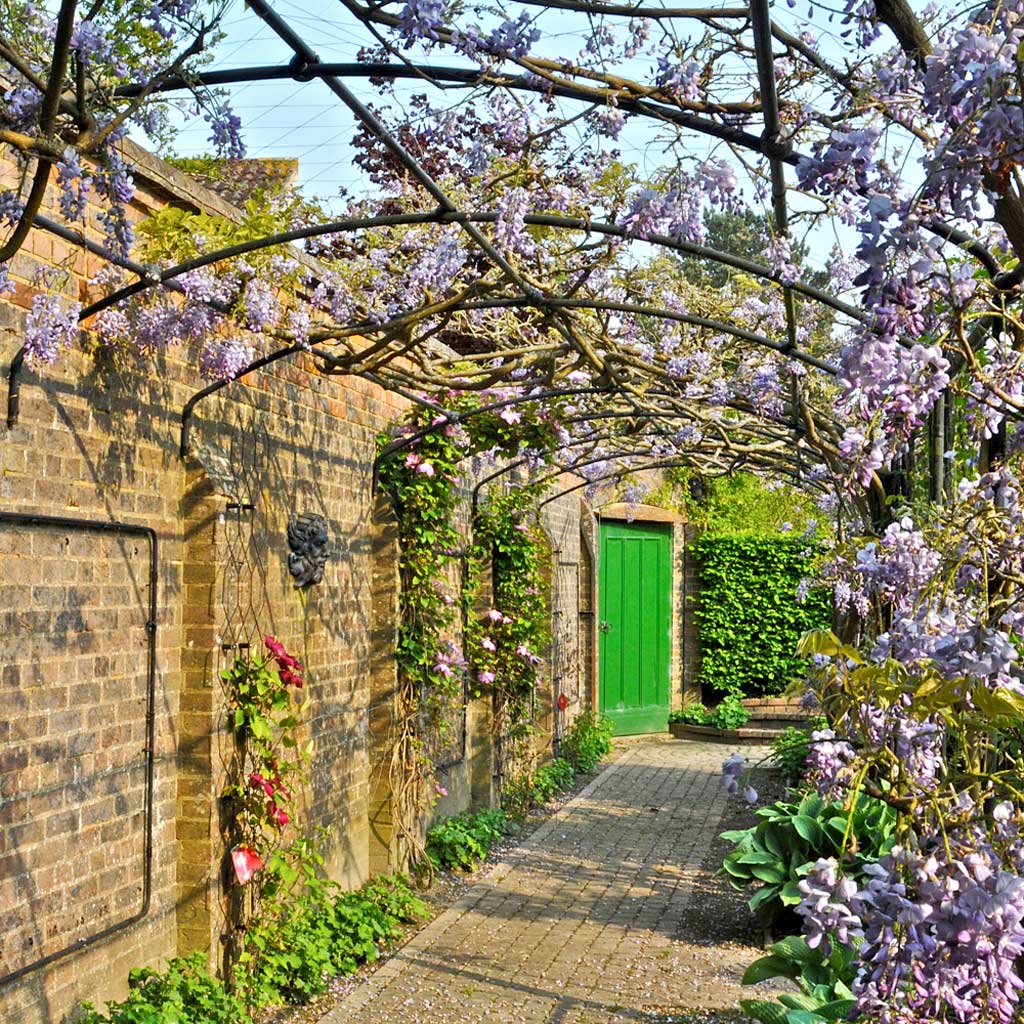 Traditional Collection
Arched Pergolas
Arched Pergolas create a feature walkway from one location to another, perhaps from a formal to informal area or to a kitchen garden. Created in our own workshops, our Metal Garden Pergolas are made from double galvanised steel, finished with our unique anti-UV protective coating to ensure long-life and backed by our 10-year guarantee.
UK Designed Metal Garden Pergolas
Our designs are inspired by our own gardens, those we visit and by the beautiful landscapes and architecture in and around us in the South West of England.
Create A Pergola Rose Arch
If you love roses and wish to create a more classic English garden style, our round arched pergola, gothic arched pergola or Monet arched pergola are perfect to run climbing roses that will add colour and beautiful scent. They will also flower year after year without heavy maintenance.
Gothic Arched Pergola
One of our most popular designs is the gothic arched pergola that creates an impactful walkway in any quintessential English garden design. Agriframes metal pergolas can be extended to any length with our extension kits, with bespoke sizing also available.
75cm Extensions For A Stronger Structure
Uniquely, each extension on an Agriframes Metal pergola is just 75cm – having less span between uprights provides more strength and support for climbers and creates a better aesthetic. Our metal pergolas tubing is also designed to strike the perfect blend of strength vs elegant design having proportional tubing depending on the width of pergola you select.
★★★★★

Everything we've bought from Agriframes has been solid and high quality and this is no exception - very good value for money.

Jacky Shutler

Avon, UK
★★★★★

Very impressed with the service and quality of the pergola - it looks beautiful in my garden. I won't hesitate to buy from yourselves again, and highly recommend you!

Michelle Seery

Kent, UK
★★★★★

Quick delivery, no missing parts, simple instructions. Pergola looks great, just have to wait for climbers to grow all over it now!

James Cook

Cheshire, UK
★★★★★

This is the 2nd arch we've bought from Agriframes. We've had the first one for about 4 years, and just got another (not to replace it, but as well as). They're good quality and easy to assemble.

Peter Gray

Dorset, UK
★★★★★

Service was quick. I ordered during the 20% discount period and it arrived the following day. It arrived in two very flat packages. The end product is really solid and looks good in the garden.

Sally Sullivan

Cornwall, UK
Our range of arched pergolas are suitable for any length, with a range of sizes to fit your garden. They start from 1.5m up to 9.75m long.
Our different metal garden pergolas are designed with their own unique build and product specifications, so the width typically varies from 1.2m to 3m. For example, if you choose a narrow arch, you can use it as a walkway, or if you choose a wider pergola, you could add a bistro set underneath to create a charming lunch spot.
Having a statement piece like an arched pergola can draw the eye to a focal point or act as a walkway from one location to another, such as from a formal to informal area, or into a kitchen garden. You can decorate your pergolas with outdoor solar garden lights along the way.
No, our arched pergolas are designed as a standalone decorative garden ornament. You can erect them anywhere you want in your garden as they are a non-permanent and can be dismantled. You will not require planning permission.
Lattice infills offer your arched pergola extra support and space for your climbing plants to grip onto. They are extremely simple to install as the panels clip into the arch in seconds.
Any rambler or strong growing climbing plants are an ideal fit - rambling roses especially. You can also mix and match various type of climbers like clematis, honeysuckle or jasmine to name a few. They will add colour, contrast and a lovely scent as you walk through your structure.
Inspirational Blogs You Might Like
View all